Healthy Eating & Weight Loss Plan
SKU:
£49.00
£49.00
Unavailable
The plan will be a collection of breakfasts, snacks, lunches, evening meals and post workout suggestions. I will also share with you information on why we eat what we eat along with with educating you about healthy nutrition so that you can ensure longterm success by following a healthy eating lifestyle rather than pursuing a short term fix.
Powered by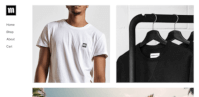 Create your own unique website with customizable templates.